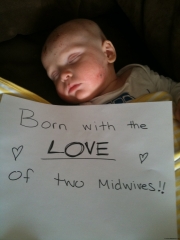 Welcome to Monday and New York State politics!!! As of this writing, it looks like a budget deal will be voted on soon, meaning that we are nearing the end of the legislative session. The original Midwifery Practice Act of 1992 passed during the last 15 minutes of the legislative session! We believe that the MMA will be no different.
We are in great shape and we have lots of support. It is nothing short of astonishing that we are where we are. All of us — midwives, consumers, advocates, supportive doctors — have brought us to this moment. We have asked you to engage in this process, and you have all done so energetically, joyfully, and effectively.
We will likely only ask you to act one more time and when that time comes, it will probably require a super-quick-drop-everything-for-5-minutes-and-call kind of response. No one knows exactly when that moment will be.
Let's all stand at the ready so we can mobilize quickly when the call comes out.
*********************
Is this your first visit to Free Our Midwives? You can learn more about our movement here and more about the Midwifery Modernization Act here.
Do you want to help make sure New York State women have access to the safe and quality care midwives provide? Subscribe for free updates here and we will keep you updated on how you can make a big difference.  Together we will get this legislation passed!
***********************
Are you in Rockland County? Local midwifery supporters are throwing a community rally in support of the MMA. Email for more information.